Working at Albany
Albany Pumps work with a variety of machining processes, a capable test plant and our own painting facilities at our factory in Bradford, Yorkshire. We design all of our own products, using state of the art solid modelling techniques. Every on of our pumps is tested in our extensive testing facilities, with staff also processing orders, managing finances, purchasing and also a sales force to reach out across the world.
We sell pump to more than 40 countries to a network of users, distributors, resellers and OEMs. The factory is easily commutable to from Chepstow, Gloucester and the Forest of Dean including Cinderford and Coleford.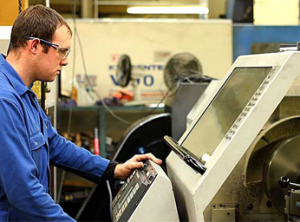 Current vacancies:
CNC Setter/Operator
We are currently looking for CNC setter/operators to join our production team. This is a full-time permanent role based at our manufacturing centre in Lydney.
The Role:
As a CNC Setter/Operator you will be responsible for setting up, programming and maintaining the CNC machines within the centre. The successful candidate will be responsible for manufacturing of products.
Key tasks:
Set and operate CNC machines
To work to customer drawings and specifications with the minimum of supervision following training.
Inspection of work produced using measuring equipment to engineering drawing and reporting of any quality defects.
Responsible for daily, weekly and monthly maintenance checks on machines, including maintaining good housekeeping standards and reporting any issues promptly.
Responsible for optimising efficiencies through reduced set-up and cycle times, plus tool life monitoring.
Liaise with Team Leaders and Supervisors to ensure work is completed on time.
Adherence to Health and Safety procedures.
Experience:
Qualified Mechanical Engineer
Experience in a Press Tooling environment.
Practical, hands on experience in manual or CNC turning.
Manufacturing experience, ideally within a component or assembly industry.
Ability to decipher basic technical drawings
Ability to work as part of a team, as well as independently

 

If you are a CNC Setter/Operator, looking for a new opportunity please email your CV to sales@albanypump.co.uk.