We are very pleased to offer commissioning and installation of our pumps around the world, ensuring that no matter where you are, we can help you. We offer:
installation of our pumps to existing customers pipework
Laser alignment of bareshaft pumps to prime movers (electric motors and diesel engines)
run tests on site to commission pumps and supply certification. Our engineers hold SPA Passports
For more information or a quotation, please contact:
E-Mail: works@albany-pumps.co.uk or E-Mail: leon@albany-pumps.co.uk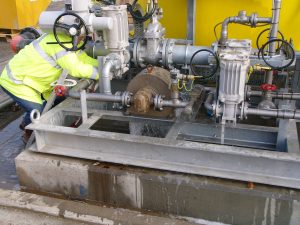 On occasion, we are asked to manage the renovation of a pumping facility and can offer the service of Project Management. This can cover removal of old pumps, testing of reconditioned or new replacement pumps, refitting on site and commissioning.
Contact Albany Pumps to discuss any projects you may have like this. A typical example we have carried out concerns the reconditioning of aircraft fuel pumping installations.
You may also find that you could benefit from our range of Customer Services Warranties - browse our three options to find one to suit