Albany Pumps are found in applications across the entire globe and we have a world-wide network to ensure you have the support you need. Our Head Office and main Customer Support Services are based in the UK. Check the map below to find your local contact or please contact our head office. We are keen to build new relationships in certain territories marked blue in the map below. Please contact us for further details.
Key

We are looking to build relationships in this location. Please contact sales@albany-pumps.co.uk or call +44 (0)1594 842 275. For sales enquiries and support in this area, please contact Albany Pumps Head Office.

Your local Albany Pumps agents, distributors and international teams can be contacted here.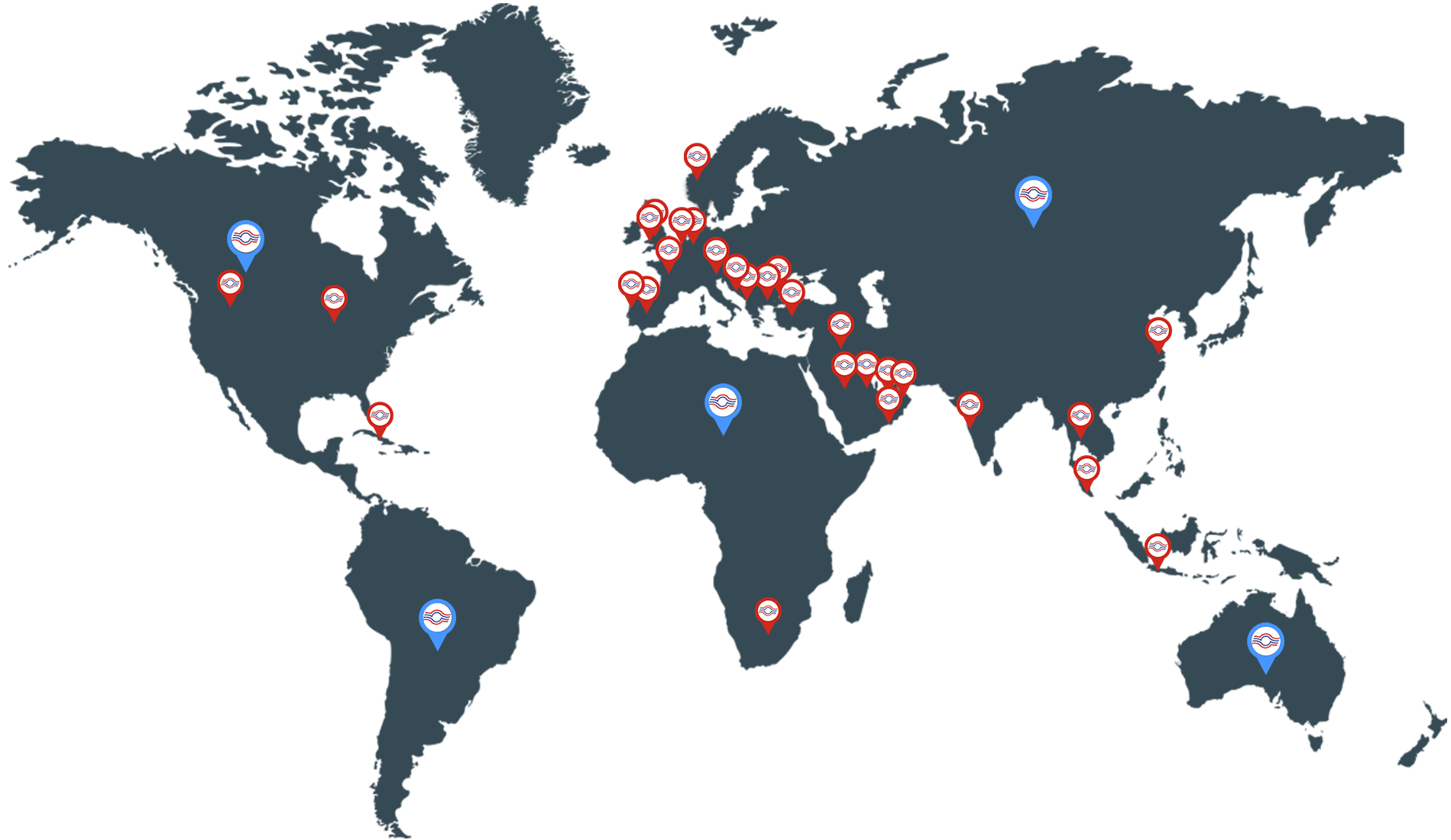 Our agents, distributors and international teams can be contacted as per the below:
Malaysia
MIS – Machinery and Industrial Supplies SDN BHD
No. 19 Jalan Dua, Off Jalan Chan Sow Lin, 55200 Kuala Lumpur, Malaysia
Contact: Choong Wai Kian – Director
E-Mail: waikian.choong@smis.com.my
Thailand
MIS – Machinery Industrial Supplies Subsidiary in Thailand, Thai Vista Enterprise Co Ltd, 23/A Moo 11 Klongmdua, Krathumbaen, Samutsakhon 74110, Thailand
Contact: Chalee Akaratpreeda
Phone: 00 66 89 771 6674
E-Mail: chalee@thaivista.co.th
China
Shang Hai Vision Mechanical Joint Co.
No. 221 Jinland Road, Jia Ding Industrial Park, Jia Ding, Shang Hai 201807 China.
Contact Lisa Lee
Tel: 0086 21 5954 6811
E-Mail: lisalee@visioninc.cn
Republic of Serbia & Montenegro
Dawcul Ltd, Vladimira Popovica 6-8, 11070 Novi Beograd, Serbia
Contact: Bojan Pavlovic
Mobile: +381 62 331 500
E-mail: bojan@dawcul.co.uk
In many parts of Eastern Europe, Albany is represented by Dawcul. Their head office is at:
United States
North America, USA
Wolff Corporation 3201 West Burnham Street, Milwaukee, Wisconsin, 53215 U.S.A.
Contact: Jerry Wolff
Phone: 001 414 385 3200
Fax:001 414 385 3215
E-Mail: wolffcorporation@gmail.com
Cuba
Tekener, S.A.
Teniente Rey,19 – Esq. Mercaderes – Ed. Gómez Vila,
Apdo. 404. Habana Vieja, Cuba
Contact: Mario I Alfonso (Account Manager)
Phone: 005378668468
E-Mail: tekenercuba@enet.cu